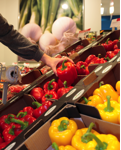 Many elements help ensure that fresh produce is protected while it moves along the supply chain. Packaging must be efficient during transport and warehousing. In the picture the height of the corrugated tray in which the peppers are packed minimises movement and maximises protection to ensure that they arrive in perfect condition.
In the case of corrugated packaging, engineered features such as stacking heights, footprints, air vents, handles, interlocking mechanisms, moisture resistance and strength requirements ensure even further product protection.
Check out this article to see how the Fresh Produce Industry is combating waste within its supply chain.