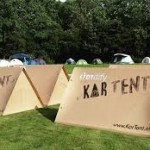 Festival organisers often have a big clean up problem with the many tents that are left behind once the festival is over, so this Dutch start-up designed a lightweight and recyclable corrugated tent. The tent resists wind and weather for 3 days – the average length of a music festival – and sleeps two people comfortably, the tent staying dark and cool inside.
The tent is being made available through festival organisers who will provide the corrugated tent, setting it up beforehand and removing for re-use or recycling once the festival is over.
The big outside surface makes an ideal spot for branding with printed logo`s or for personalisation with fun images!

link to Kartent website