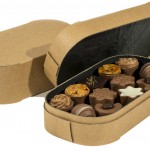 A recently launched technique enables numerous new design possibilities for optimally packaging and marketing products with curved or round shaped corrugated board packaging. It can be used for a variety of different packaging purposes such as packaging consumer products, shelf- ready packaging, in-store displays and bag-in-box.
This new method can enable the design of enticing packaging. Not only attracting with curvatures, the rounded shape also provide improved stability and strength which ensure good protection of the products.
Another benefit of curved corners is the increased stacking strength of the packaging; as less material is used the weight can be reduced by up to 30%.
For more information see www.arcwise.se