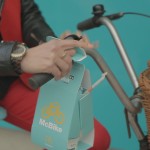 A new take-away service by fast food chain McDonalds could create an uptake for new packaging fit for cycling. With this new service not only can cyclists pedal into a McDonald's drive-through stand, but on top of that their food comes in a packaging designed especially for transportation on bicycles.
This simple but brilliant new packaging is launched in Denmark. It is also available in Colombia and will soon be hitting Amsterdam in the Netherlands and Japan.
If we look beyond fast food and take into account that cycling is the Millenials' preferred mode of transport, this could create a new market for corrugated board: fit-for-purpose, light, hygienic, fully recyclable packaging fit for bicycle transport. Surely that is bound to interest other producers!
For more information on McBike:
http://metro.co.uk/2015/06/20/mcdonalds-new-mcbike-packaging-is-a-seriously-neat-bit-of-kit-5255287/
Image source McDonalds