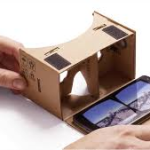 Following warnings that the Great Barrier Reef could be placed on the list of Heritage Sites in Danger, WWF and Google Creative Labs have joined forces to help raise awareness about the state of the reef. They have created a device, like a helmet or goggles, which is used to take people on a virtual tour around the reef.
The campaign is called "It's your reef" as WWF and Google Creative Labs want people to take ownership of the reef by 'taking a trip' to admire the beauty of an environment that is threatened and could disappear. The goggles are commonly known as Google Cardboards, and function as a virtual reality head-mounted display. Basically, thanks to an app on your smartphone and the Google Cardboards, people can immerse themselves fully in four different areas of the reef.
Google invites everyone to develop apps for viewers. Google Cardboard can support larger phones with screens up to 6 inches and can be assembled (and disassembled) in just 3 steps. It is being promoted as Virtual Reality for everyone. Google Cardboard Viewer is indeed meant for everyone. The product specifications can be downloaded for free. See: https://www.google.com/get/cardboard/get-cardboard/
It is indeed true that corrugated board is, in this case, a material for everyone, offering value for money, strength, flexibility and fun!
For more information on the WWF and Google Creative Labs campaign:
New York Times article on the Google Cardboards:
http://www.nytimes.com/2015/05/29/technology/google-intensifies-focus-on-its-cardboard-virtual-reality-device.html?_r=0
Image source: https://www.google.com/get/cardboard/manufacturers/