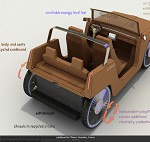 The advantages of corrugated board are well known. Its strength, versatility, protective abilities, recyclability and renewability make it the ideal transport packaging material. Some may think that this is the extent of its contribution. Not quite.
Did you know for example that corrugated board can be used as part of sound dampening material in cars?
More recently the Michelin Design Challenge listed an entry by French designer Thierry Dumaine for a corrugated board concept car, called carDboard, a minimalist car for a minimalist price and weight. It is a hybrid concept car using gasoline, compressed air and electrical energy. The use of corrugated board makes it lightweight and hence very economical to run.
Driving in corrugated could soon be a reality.