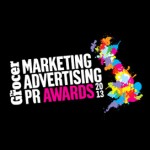 Great News: Mr Corrugated has been shortlisted for Trade Media campaign of the year in the Grocer Marketing, Advertising & PR Awards.
The Grocer is the main grocery trade magazine in the UK. Take a look at the shortlist here http://www.gramia.co.uk/page/2013_shortlist.html. There were 94 entries for the Trade Media category alone, so this is a strong achievement by Mr Corrugated!
The Awards ceremony will be held on the 31st October at the London Film Museum. Go Mr C!