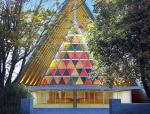 Last February 2011, an earthquake hit New Zealand's second largest city, Christchurch, reaching 6.3 on the Richter scale and devastating many of city's buildings.
One of the many structures to be critically damaged was Christchurch's 131-year-old Anglican cathedral which stood proudly on the city's central square.  Unfortunately, any chance of rebuilding this historic monument was crushed by a series of strong aftershocks and it will have to be demolished.
Amidst such destruction and loss, the clergy has decided to build a temporary cathedral for its congregation and expect its completion in time for the Christmas service.  However, this won't just be any cathedral, it will have a modern and sleek design, and will be build out of affordable and sustainable materials, including… cardboard.  Looking at the images below, it is clear that they aim to provide a symbol of hope for Christchurch and aim to lead the city's re-birth.
The cathedral's design was created by Japanese architect Mr. Shigeru Ban, known for his paper and cardboard structures, and who previously built Kobe's "Paper Church".
We look forward to seeing the cathedral's completion and are very pleased to see that corrugated's adaptable and sustainable merits will help realise its design.
Image sources: http://www.gizmag.com/cardboard-christchurch-cathedral/22177/pictures#1