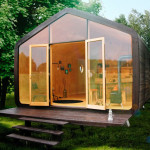 Durable, lightweight, strong and perfect insulation. These are the characteristics of corrugated board and just what is needed to build a modular, transportable home that is well insulated and comfortable.
The Dutch company Fiction Factory have put the modular `micro-home` on the market. You can make your modular home as big or small as you like by adding more modules.
The wikkelhouse (wrapperhouse) is made by wrapping 24 layers of corrugated board around a frame. The layers are then covered with a waterproof, breathable coating to protect from rain and weather conditions. Wooden slats are used to finish the façade and glass windows installed. Kitchen, bathroom and shower can be added with `smart home segments`.
Link to the website http://www.wikkelhouse.com/